If you are visiting from Jordan at A Blue Nest, welcome I am so glad you are here!  Isn't Jordan's style simply wonderful?  I want to thank my friend Kelly from The Tattered Pew for hosting such a fun group of talented bloggers for an Easy Summer Styling Home Tour. Yesterday, if you missed it, seven ladies shared their tips. The links to those will be at the bottom of this post. Today six of us are sharing our summer inspiration and styling ideas for you.
Our front porch has quickly become one of our favorite places to hang out with our family and friends.  Most nights you'll find my husband in the rocking chair with the dog close by his side,  me at the table and the kids in the yard kicking around the soccer ball.  It has truly become an extension of our home.
I'm excited to share with you today a few budget friendly, simple summer decor ideas for your porch.  If you've followed me for any amount of time you know how much I love to mix old and new.  I take my time to find pieces I love, and I REALLY like to keep it simple.  My front porch is absolutely and extension of my style.  As I was getting ready for this post I realized that every single piece of furniture on the porch, except the dining chairs, was purchased from an antique store, FB Marketplace, or swiped from my sister-in-laws basement!
This brings me to my First Tip:  Decorating can Absolutely be Done on a Budget
If you can be patient and you have a good idea of what you are looking for you can save a ton of money. I wanted our front porch to look and feel like a room in our home. I wanted a table to eat at, rocking chairs, a coffee table to put our feet on, and table by our front door. Those were my 3 must haves.  Knowing those three things I watched and waited. I was able to get all of those things for under $200 total (even that amazing dining table!)  The amazing little hutch was what I swiped from my sister-in-laws basement when she said it was going to her curb. Many times the saying is true, "You're trash, my treasure!" Look how adorable it looks up there, and it's functional. I store outdoor candles, fuel for our lanterns, and other small items on the bottom. I use the top when we eat outside for side dishes, silverware and napkins.
Tip Number Two: You can NEVER go Wrong With Fresh Flowers and Plants
Plants automatically bring warmth, color and texture into a space yet still leave it with a neutral pallet. And again plants can be bought on a budget! Every time we make the trek to IKEA I always make sure I set aside $25 to spend on plants because they are so well priced. I watch the big box stores and local greenhouses for sales. I also may be known for having a plant in my cart every time I leave Trader Joe's.  Fresh flowers can also be budget friendly if you plan ahead.  Each year we add a hydrangea plant to our landscaping because I love to decorate with them.  We have a few lilac bushes as well.  We plant tulip and daffodil bulbs so we always have those to look forward to.  Last year I used one of my raised beds to plant a cut flower garden. Honestly, that turned into the favorite part of my garden.
Tip Number Three: Start With a Clean Slate
Anytime I am getting ready to refresh a space I always get it down to its bare bones, clean it up, then stand back and take a good look at it.  I have to sit in a space for a bit before a plan starts to form.  Once the ideas start to come the first thing I do is shop my home.  I walk through rooms and grab pieces that I think would work in my new space.  Sometime just moving an item gives it new life.  I knew I wanted a touch of patriotism so I grabbed this old window and flag I had laying in our spare room and started there.  Every summer porch needs some fresh cool drinks on these hot summer nights. You'll very rarely see us drinking out of anything other than a good ole' Ball jar.  Add some cute paper straws and call your friends over for some porch sittin' time.
I hope these few Easy Summer Styling tips gave you a little bit of inspiration to make your front porch one of your favorite places to be this summer! Thank you so much for hanging out with me today. Next up on the hop is from Sand Dollar Lane.  She will be sharing styling tips for your living room.  All the bloggers on this tour are linked below so head on over and be inspired!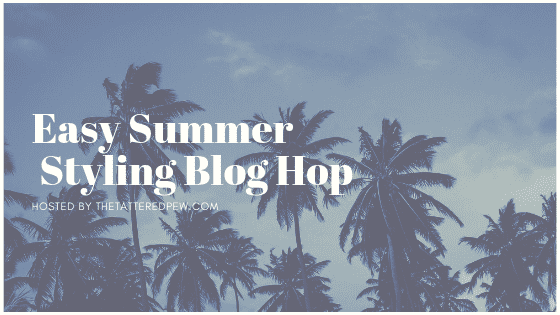 Come enjoy 13 talented bloggers sharing some easy summer styling this week! Sharing with me today are…
Thursday


And sharing yesterday…
Wednesday